Sustainability, energy efficiency and greater competitiveness through collaboration. Elmia Subcontractor highlights the industry's key issues, backed by the leading experts in the sector – such as how the mobility solutions of the future create new opportunities for today's suppliers.
The industry of the future is shaped at Elmia Subcontractor. This is where the major issues are tackled, and the hottest topics for the manufacturing industry are discussed. This is particularly evident from the daily stage programme, where leading industry experts inspire and inform about the most important subjects of today – and tomorrow.
Sustainability, energy efficiency and collaboration are just some of the areas being highlighted on the various stages around Elmia Subcontractor. And these three areas are clearly also key to mobility and vehicle manufacturing in the future. The question is, how will this affect today's suppliers?
"A different kind of supplier will be needed to today's traditional OEM suppliers. Traditional OEMs generally require large volumes, and only a certain type of subcontractor has that kind of capacity. For us at NEVS, medium-sized companies are likely to be better suited," says Peter Dahl, Program Director at NEVS.
Agility is essential
Peter Dahl presented NEVS' future in autonomous and electrified vehicles on the Main Stage at Elmia Subcontractor. The plan is to scale up production dramatically in 2026 and establish a presence in less limited areas worldwide. Autonomous and electrified are what NEWS is all about, and the field is also a shared service.
This also entails some revolutionary technical changes that extend far beyond the vehicle itself. The result? In all likelihood, a different kind of supplier to the ones currently supplying the traditional automotive industry. In other words, suppliers that can deliver small to mid-size volumes and can respond swiftly to change.
Dahl also prefers to talk about partners rather than suppliers.
"A lot of the companies I've met here at Elmia Subcontractor seem to be available and are easy to approach to discuss solutions. They can also respond quickly to change. With large suppliers, you can't just say, 'We've found a fault that needs dealing with, can you fix it by next month?' They're generally quite booked up, and it can be half a year before they can fit it in. Many of the suppliers exhibiting at Elmia Subcontractor can make changes agilely, and that will be very important in the future," he says.
Scania towards a carbon dioxide-neutral supply chain
Scania too talks about partnerships as it takes its heavy trucks into the future – a future that in many ways starts from the Paris Agreement and limiting global warming to well below two degrees Celsius. For Scania, this means for example that the supply chain must be carbon neutral by 2030. This will obviously affect suppliers that currently have processes which generate a lot of carbon dioxide – energy use is, after all, the main villain when it comes to the manufacturing process.
Jessica Elfsberg, Expert Engineer at Scania, talked about this on the Main Stage at Elmia Subcontractor.
"In Sweden we already have a very good energy mix, although a Swedish supplier that uses a lot of electricity can always make sure its electricity mix is fossil free. That alone will be a big step. But there are a lot of other processes too, and each part has to be analysed to see what needs to be done. Scania can help out with certain types of processes, and for other types assistance is available from RISE, Research Institutes of Sweden, for instance. But more often than not it's simply about being energy smart, and the electricity mix is quite a simple aspect to review," says Elfsberg.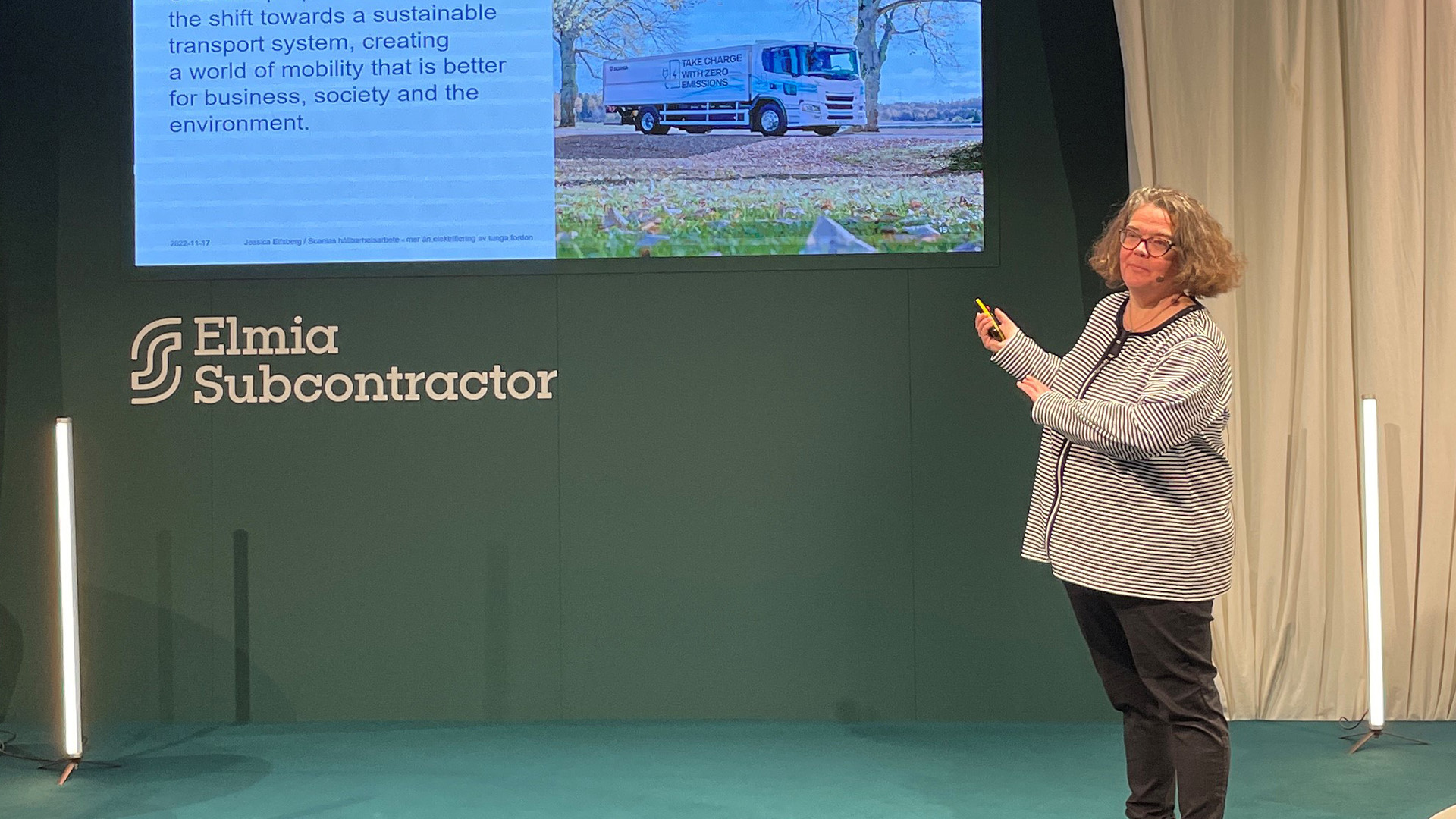 Scania's sustainability is about more than just electrification of heavy vehicles. For example, it's also about having a carbon-neutral supply chain by 2030. Jessica Elfsberg of Scania talked about this on the Main Stage at Elmia Subcontractor.
Sustainability – a competitive edge
As well as working with the supply chain, Scania is also focusing on reducing CO2 emissions when its trucks are in use – this is where alternative fuels and electrification come into play – and on reducing emissions in its own processes. When it comes to the supply chain, Elfsberg says that Scania is always happy to work with suppliers to find a good solution.
"I think that suppliers should start from the Paris Agreement, and see how they can help to achieve that goal more easily. They can overhaul their processes, look at ventilation and heating, their choice of materials, and even things like disposing of the right waste in the right place. Basically, it's about the small things. I'm convinced that thinking sustainability in every detail increases competitiveness," she says.
Staying ahead of the game
For NEVS, the driving forces for the mobility solutions of the future are climate and the environment. Everything from the initial idea of a shared solution, right down to the component level in the autonomous vehicle.
For things to progress, what's needed are agile, readily available suppliers with a strong focus on sustainability in their manufacturing process – and that could be anything from energy-efficient production methods to using circular materials.
Caption: Peter Dahl, Program Director at NEVS, talked about the changing face of mobility at Elmia Subcontractor, and what opportunities and challenges this entails for today's suppliers.