Art.no. 12449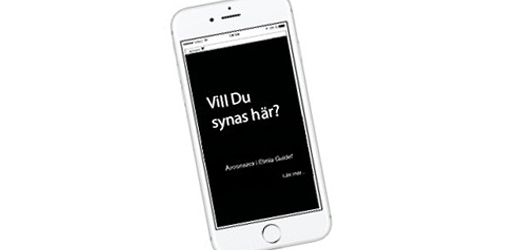 The Elmia Guide app contains all the information about the fair's exhibitors, programme and activities, and helps visitors and exhibitors to find their way around the fair. Your message will be visible over the whole screen to everyone who uses the app. You choose the week that you want your advertise to run.
| | | |
| --- | --- | --- |
| | No. of ad spaces | Dimensions |
| Hero banner | 1 | 1 202 x 2 096 pixels |
Technical information
Dimensions: 1 202 x 2 096 pixels
Maximum size of banner: 200 kb
Format: PNG/JPEG When you send us the message please also include the URL you want the user to reach by clicking on the link. The page will open in a new browser.
Material deadline: No later than two weeks before publication you upload your advertising material via My Pages on the fair´s website. Log in at the top by the key symbol with your username and password, provided on your order acknowledgement. Click on My Pages and Submit material for digital advertising. Your material must be titled with the name, space and measurements of your advertisement space (for example "Banner_app_960x150px"). For further information, please contact your salesperson at Elmia.
About the app: The app can be downloaded via App Store or Google Play and is compatible with iOS version 8 and Android 4.03 or later.
All prices refer to material that is ready for publication/print. There is an additional cost for unfinished material. If you are unable to produce material ready for publication/print yourself, Elmia can help.