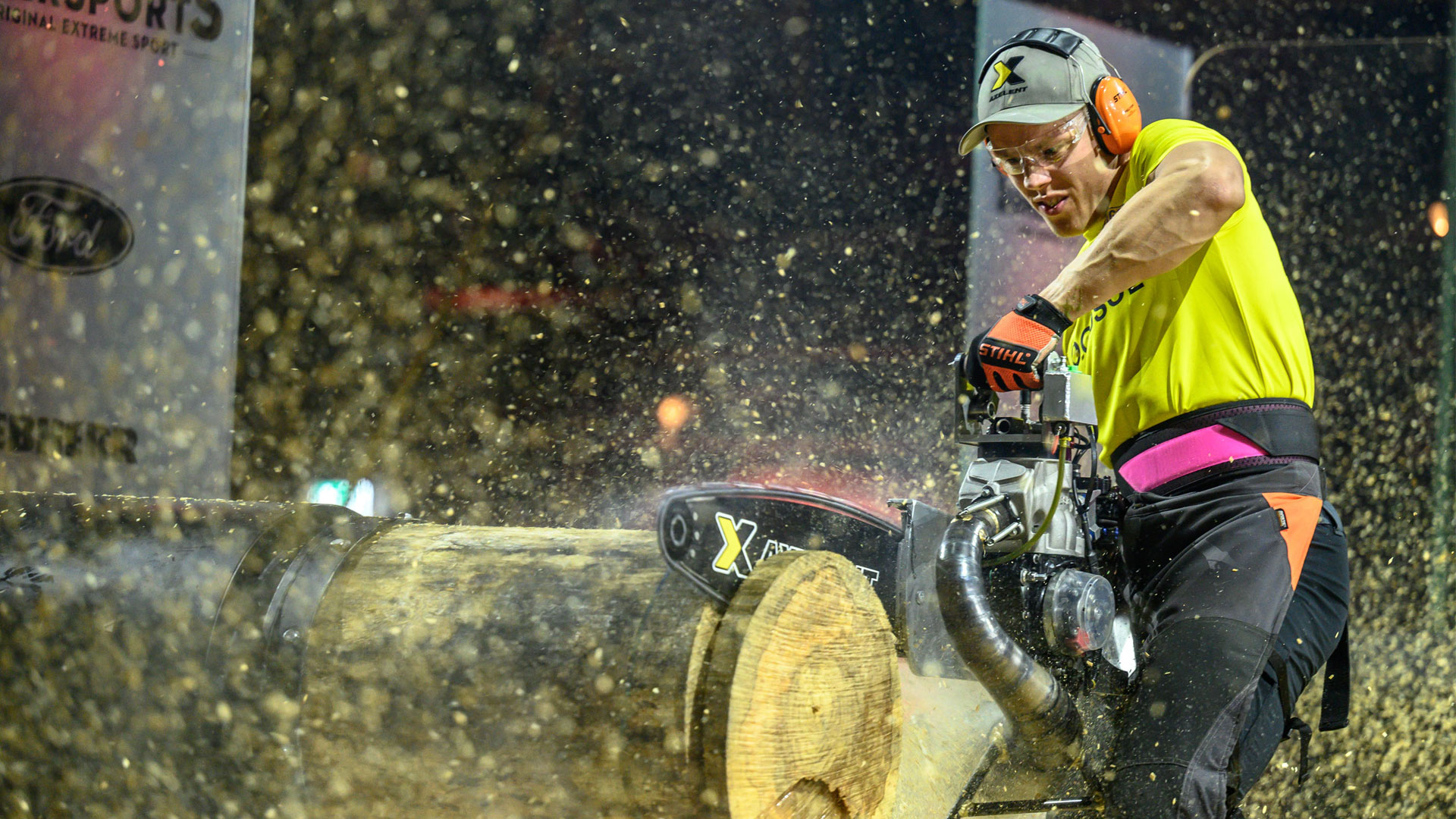 What is TIMBERSPORTS®
TIMBERSPORTS® is an extreme sport where you compete in six different disciplines, three with an ax and two with a chainsaw, and a branch that is performed with a two meter long hand saw. The branches are executed in the fastest possible time. The sport came to Europe in 2001, but started in the USA as early as 1985. It has been seen that it has roots as far back as the 19th century, then mainly in Australia and New Zealand. The branches simulate the felling of a tree, or the cutting of an already felled tree, and the athletes thereby show evidence of strength, courage, technique and endurance.
Competitions during the fair
The TIMBERSPORTS® days at Elmia Wood begin with a fantastic show on June 2, and continue the next few days with two exciting competitions. Nordic Trophy, June 3, is a competition where athletes meet two by two in knockout duels where they perform four challenging disciplines in a row. This requires mental strength, perfect technique and of course perseverance. Every duel requires that you give everything, the slightest mistake can lead to you being knocked out. The two athletes who win all rounds are the ones who make it to the finals. Two from each country advance and qualify for the European Trophy. On June 4, it's time for the Nordic Cup, which is an individual competition with six branches, three with an ax and three with a saw. The branches that are performed with an ax are Underhand Chop, Standing Block Chop and Springboard. Stock Saw is performed with a powerful standard chainsaw, Single Buck with a two meter long hand saw while Hot Saw is performed with a specially built chainsaw of 62 horsepower. The Nordic Cup will consist of 4 classes: PRO competing in 6 disciplines, and Interm./Rookie/Women competing in 4 disciplines.
It will be a wonderful mix of strength, sweat and sawdust!
Thursday 2 June (30 minutes at a time)
Show 10.00, 12.00, 14.00 och 16.00
Friday 3 June
Nordic Trophy* + Nordic Cup 13.00-17.00
*EM-kval
Saturday 4 June
Nordic Cup 12.00-16.00
Stand: Monter 737