At Elmia, you do not have to be hungry. There is a wide range of restaurants and cafés to choose from. At Elmia, FC Gruppen is the food supplier and runs all restaurants and cafés inside the exhibition area.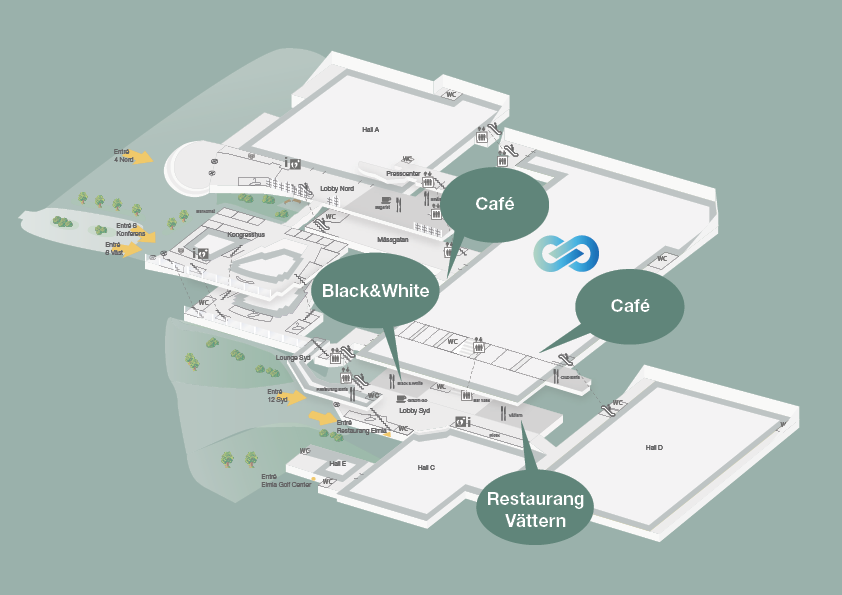 During VA-mässan, the following restaurants are available:
Black & White
In the restaurant Black & White, a meat dish with roasted potatoes and various condiments is served daily. Of course, there is always a vegetarian option as well. In addition, there are several salads to choose from and if you have not tried our popular home-baked bread from our own bakery, it is a must!
Take the opportunity to sit down for a while and enjoy a coffee with the food and taste one of our home-baked cakes.
There are separate lines for visitors and exhibitors.
Vättern
In the restaurant Vättern, there is a dish that suits everyone, you can choose from three different options. A meat dish, fish dish and a vegetarian dish are served. All food is locally produced and inspired by the local cuisine.
The price also includes bread from our own bakery, free access to the salad buffet and of course requirements and fair trade coffee.
Café
Are you just craving something sweet or maybe a simpler lunch option? Here you will find the bakery's selected favorites for the coffee lover. Wraps or salad for the slightly hungrier or why not a glass of wine or beer for those who want to unwind after their visit to the fair.
You will find the café in Hall B.
Vouchers
Buy vouchers that can be used for both lunch and coffee in all our restaurants at Elmia. At the fair, you hand in the coupon at checkout, the staff writes down the amount you shopped for. After the fair, we invoice the total amount that your company shopped for, ie. you only pay for the coupons that are actually used.
---
---