Art.no. 11634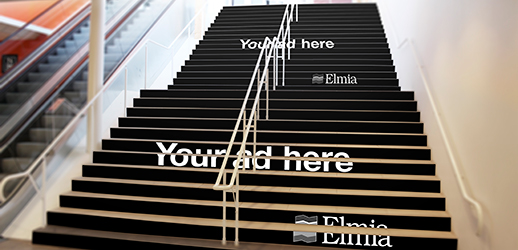 Number 24 on the general map.
Make sure you're the one that catches visitors' attention as they use the stairs from Hall B to Hall A. Here you have the whole staircase to build your message and display your company where no one can miss it. Seize the opportunity to be seen here.


| | | |
| --- | --- | --- |
| | No. of ad spaces | Dimensions |
| Steps | 29 | 4 990 x 150 mm |
Technical information
Size: 4 990 x 150 mm per step
Format: Print-ready PDF with colours in CMYK. Artwork must be in scale 1:1. We recommend mainly using images as text can be difficult to read and end up cut off between the steps. If you do decide to use text, position it along the whole step as shown in the picture for the best results.
Material deadline: No later than three weeks before the fair opens you upload your advertising material via My Pages on the fair´s website. Log in at the top by the key symbol with your username and password, provided on your order acknowledgement. Click on My Pages and Submit material for print. Your material must be titled with the name, space and measurements of your advertisement space (for example "Steps_HallBtoA_4990x150mm). For further information, please contact your salesperson at Elmia.
All prices refer to material that is ready for publication/print. There is an additional cost for unfinished material. If you are unable to produce material ready for publication/print yourself, Elmia can help.