- AI-backed design of 3D drawings


Optimised geometric shape to reduce printing time and material consumption in 3D printing of fixtures.
Optimising a geometry manually in a traditional 3D CAD program can take days – and even then, the results are nowhere near as good as what software for geometry optimisation can produce automatically in a few minutes.
Geometry optimisation is a technology for creating an optimally designed 3D geometry (CAD file) for the task the detail is to perform, before the detail is manufactured. The geometric shape is generated automatically with AI support.
CogniCAD software from Paramatters offers a new way of automatically generating details with higher performance or lighter constructions, primarily for Additive Manufacturing (AM/3D printing) or investment casting. The process:
Sketch the 3D volume within the restrictions for the optimised detail.
Establish the loads and conditions.
Load your sketch into CogniCAD, wait until about 100 computers in the cloud have finished their calculations, then take the finished, automatically produced design.
Send the detail for production.
Benefits:
Make your products 50% lighter.
Reduce technical design time dramatically – hours instead of days.
Strength calculations are performed automatically.
With components that are lighter and last longer, more sustainable, resource-efficient products can be produced. This is a technology that really leaves the work to the computer!
Allowing this 3D drawing to be processed with generative design reduced the weight, and the detail could be 3D printed far more quickly than just using the original design.
The material cost was far lower.
Read more about generative design here.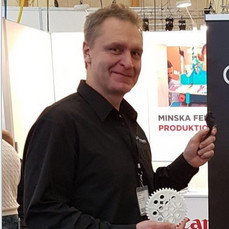 Sustainability – How can smart technology make companies more sustainable? So how can technology really help companies, in concrete terms, with their efforts to reduce their climate footprint?
Listen to Robert of Additiva, one of this year's speakers in the Digital Programme being broadcast during the fair.